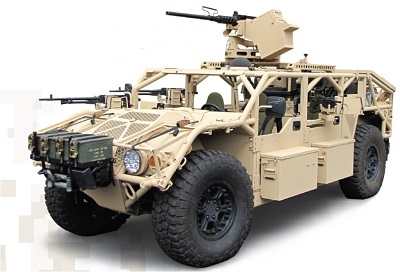 Flyer Defense/General Dynamics GDOTS Flyer Advanced Light Strike Vehicle (ALSV) a possible ULCV candidate
Next month the Army will be testing potential vehicles at Ft. Bragg to fit the Ultra Light Combat Vehicle (ULCV) concept.  This is an old (and good) idea that is new again.  The concept is for a light vehicle that can be chopped to Airborne and Light Infantry units to enhance their mobility.  After a decade of conflict the Army has come to realize it has lost some of its flexibility and is trying to revive that with new concepts.
"We've traded mobility for survivability and we've got to get it back in line — I need mobility," Chief of Staff Gen. Raymond Odierno said Jan. 23 during an Association for the United States Army breakfast in Arlington, VA. "I need tactical mobility for the future. How do we sustain survivability while increasing mobility?"
The ULCV sources-sought notice calls for a vehicle that can carry a combat equipped nine man squad (around3200lbs.), be capable of being driven off a CH47 Chinook fully loaded, slung by a UH60 Blackhawk and air dropped by a C130 aircraft.  The vehicle should have a 250-300 mile range on its internal fuel tank.  It's expected to spend 75% of its time off road, survive a rollover and mount a "medium caliber weapon".  The vehicle will not be armored.
The UCLV concept is to provide units requiring tactical mobility a quick fix.   LTC Kevin Parker, branch chief of Light Systems in the MCoE's Mounted Requirements Division said, "We are not motorizing the IBCT."  This is similar to the Marines approach to vehicles where armored infantry vehicles like the AAVP7 are attached to Infantry units for an operation and then go away.  The advantage is the unit commander is not responsible for the maintenance of the vehicles.  The disadvantage is that the vehicles are not always available for training and the unit may not be as adept at mechanized warfare as it could be.
That's unlike the Army's typical approach where Infantry commanders own their vehicles and crews like the Stryker and Bradley and are responsible for not only training dismounted infantrymen but the vehicle crews and melding those two capabilities into a motorized or mechanized unit.   Remember though, the UCLV isn't supposed to be a fighting vehicle.  They just get the light Infantry to the fight quicker and are attached to a unit as needed and not a permanent part of the unit though that may change if a medium caliber weapon is actually fielded on these vehicles.  The temptation to not "fight" the UCLV may be a temptation too great to bear.
This is a good idea.  If the objective is 50 miles from where paratroopers, or heliborne infantry are inserted you have to walk there.  This often dictates landing or drop zones near objectives which makes it easier for the enemy to defend against.   Sometimes airplanes and helicopters can't get close to an objective because one SAM could take down an airplane with 300 souls or a helo with 12 – 50. Landing 20 miles away with the ability to get someplace in an hour means the enemy has to defend many more targets with more than one guy and an SA7.
The UCLV could give the light infantry which is limited to the speed it can walk, greater tactical speed as needed.  This allows an airfield seizure and a follow on force that can move to an objective dozens of miles away quickly robbing the enemy of time to prepare a defense.  Giving grunts the ability to move 20-60 or a 100 miles quickly after landing in a country is a HUGE advantage and something the enemy has to be concerned about after an airborne or air assault operation is conducted in their rear.
We have to remember not every war is going to be like Afghanistan or Iraq where IEDs started to significantly appear years after the war started. We still have the MRAPS to deploy if things get bogged down but allowing Infantry battalions to move fast greatly expands the tactical mobility of a forced entry operation by airborne or follow on air assault and light infantry forces.
The UCLV notice states the "ULCV does not currently have an approved requirement."   As I've said before, this concept has been batted about from time to time.  The last incantation was "Air-Mech-Strike: 3-Dimensional Phalanx; Full Spectrum Maneuver Warfare to Dominate the 21st Century" written by General David L. Grange, Huba Wass De Czege and others who proposed the development of a light armored mobility capability for light and heli-borne infantry.  In the aftermath of our slow massing and eventual deployment into Bosnia the concept got a lot of interest in the Army but eventually fell by the wayside as the Stryker was adopted and fielded.
I hope light infantry finally gets a select capability to enhance its greatest disadvantage, the limited speed of the dismounted grunt.