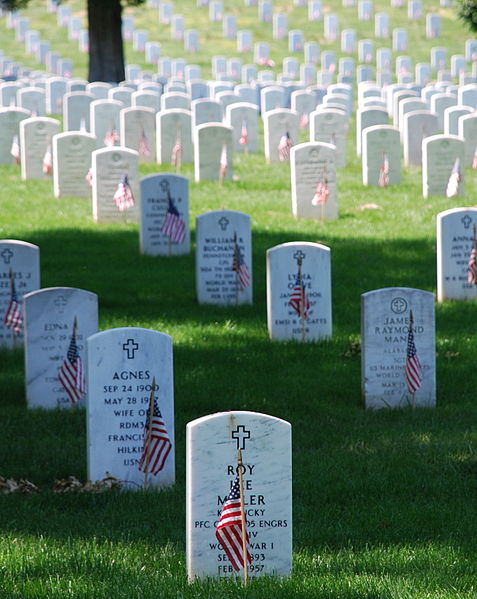 As we enjoy our long weekend, the unofficial beginning of summer and some really great sales opportunities I just wanted to remind everyone to take a moment and meditate on what the holiday is really about.
Memorial Day, is a specific United States federal holiday formerly known as Decoration Day. Unlike Veteran's Day which celebrates all vets' service, Memorial Day commemorates men and women who died while in military service to the United States.
Initially called Decoration Day to honor the over 600 thousand Union and Confederate soldiers who died during the American Civil War, it was extended after World War I to honor all Americans who have died while in uniform.  It was widely recognized at the state level but only became a federal holiday in 1967.
Unfortunately it was moved from its traditional 30 May observance to a Monday by federal law in 1971. Subsequently as the VFW stated on Memorial day 2002..
"Changing the date merely to create three-day weekends has undermined the very meaning of the day. No doubt, this has contributed a lot to the general public's nonchalant observance of Memorial Day."
About 1.3 million Americans have made the ultimate sacrifice in defense of our nation since Lexington & Concord.  I offer an inadequate thanks to all my brothers and sisters who have taken the oath, worn the uniform and paid the supreme price.
As part of my personal celebration of Memorial Day I make it a point to remember and recite the names of those I personally served with:
SSG Richard L. Alter
PFC Clifford W. Bath III
PFC James Draper Jr
PV2 Andrew J. Franklin III
SPC Samuel A. Hintz
PFC Michael A. Jankowski
PV2 Jeffrey L. Rivas
PFC Timothy S. Sayer
1st Sqd, 1st Plt B Co 2-502  Killed in an air to air collision with a TF 160 BlackHawk 1988
Specialist Peter L. Swano
HHC 3-5 Cav 3rd AD  Died shortly before our crossing into Iraq during Desert Storm
Captain Joseph G. Kime III
HHC 1st BDE 3rd Armored Div  Killed when his vehicle drove over a mine in Desert Storm
1LT Jeff Case
C Co. 3-5 Cav 3rd AD  Shot himself after returning from Desert Storm
You and the 1.2 million plus other Americans are NEVER forgotten.
Those that visit GruntsandCo.com are characteristically much more appreciative than most of our servicemember's sacrifice and recognize those that died made a personal sacrifice for us.   I encourage others to remember their comrades, friends, family or neighbors that have made the ultimate sacrifice below if they'd like to.  If one doesn't know someone, a silent "thanks" sometime over your weekend is enough.