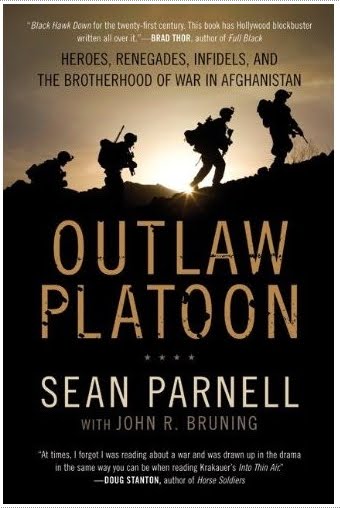 "OUTLAW PLATOON, Heroes, Renegades, Infidels, and the Brotherhood of War in Afghanistan by Sean Parnell
HANDS DOWN, THE BEST BOOK I'VE EVER READ ABOUT AFGHANISTAN and I've read all the "bestsellers".   I can't think of a better book to recommend to anyone who wants to understand combat, the brotherhood of war and selflessness or be reminded of what it's like to be on a combat outpost in Afghanistan with men you'll never forget…
This is a classic up there with Black Hawk Down.
Written by Sean Parnell (w/John Bruning) about his Infantry platoon's experiences in Afghanistan circa 2006 during a 15 month tour.  It is inspiring and relates the day to day experiences of the no glory conventional Infantry. His 43 man platoon's actions garnished seven bronze stars (five for valor), 12 ARCOMs with "V" and 32 purple hearts.   There was no shortage of action.
The book relates the adrenaline rush of close combat, the personal pain of losing a friend and the unique camaraderie shared between Infantrymen all punctuated by the sounds of battle.   I loved that Parnell wrote about his troops nonstop and not about himself.  He pulls no punches and lays out the incredible examples of selflessness and heroism right next to the occasional "shammers" and cowards.
There is no shortage of action.  The description of what a 60mm round does to an enemy machine gun position or what happens when a .50 cal round strikes an insurgent ambushing your unit sounds like the MasterCard punch line, "Priceless".
It is an intense, spellbinding and action packed story. It made me marvel, laugh and cry ("man tears").
Read all 400 pages in less than 24 hours. Stayed up until 05:00 to finish it.
Simply put this book was written by a hero but wasn't about him. He used 399 pages to extol his soldiers and the spirit of the American fighting man. I want to meet Sean Parnell and shake his hand."