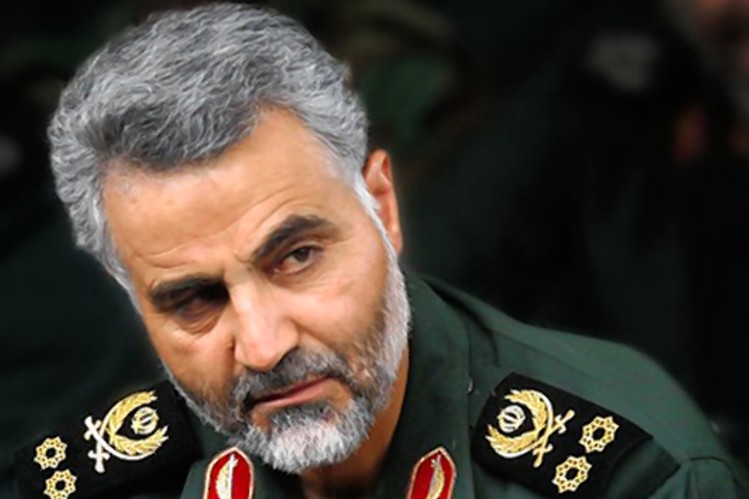 The commander of Iran's Quds Force, Maj. Gen. Qasem Solaimani, went to Baghdad this week. Shahaboddin Vajedi
Iran, Er I mean "Iraq", surprised US officials with an offensive aimed at Tikrit that started a couple of days ago.  The composition of the offense, the manner it is being conducted, the lack of US involvement and the target all signal deeper truths about the current struggle going on in Iraq and Iran's growing role in the conflict.
The offense to take Tikrit consists of about 30k troops.   Half consist of Shia militia troops known as "popular mobilization" forces.   Shia militias are equipped, trained, supported and apparently even led in the battle for Tikrit by Iran as Iran's Quds Force commander Gen. Qasem Soleimani presence demonstrates.  The Institute for the Study of War cites initial reports demonstrating the key role of Shia militia troops which are being led by Hadi al-Amiri.  Normally Iraq's transport minister, Hadi al-Amiri's better known as the leader of the Iranian trained Badr militia. These same organizations have been responsible for widespread Shia torture and murder of Sunnis including the murder of 72 Sunnis last month.
Soleimani's presence and supervision further exemplifies the Hezbollahization of Iraq's military forces by Iran.  Reports of Iranian Quds forces embedded, operating independently of Iraqi militia troops and Iranian artillery units providing fire support for the offensive further demonstrate Iran's deep involvement and domination of the Iraqi military.  I recently wrote about Iran's dominance in Iraq's fight against ISIS including the manning of US supplied M1 Abrams tanks by Iranian troops and who enjoy lion's share of credit for stopping ISIS' march in Iraq.
The extensive use of Iranian artillery, drones, airstrikes and use of over 100 IED's on one road in the area portend a Chechnya style assault on Tikrit, Saddam Hussein's hometown and a center for Sunni influence.  A scorched earth assault on Tikrit may be an effort to send a message to Sunnis, intended or not it does not portend well for a united Iraq.
The US is entirely uninvolved in the Tikrit operation and according to reports was surprised by the offense.  This situation on the heels of conflicting US reports of a pending US supported assault on Mosul (containing an inordinate amount of operational details on what units would be involved) was almost immediately countered with an announcement that the offense must be delayed until fall.  The details, delay and confusion do not reflect well on the capabilities and competence of US/coalition forces in the region especially in comparison to Iran's efforts.
It remains to be seen if the joint Iran/Iraq Tikrit offense will be successful.  What is obvious is Iran has a deep and solid foothold in Iraq.  Current US actions in the region either facilitate Iran's growing influence or directly support it by growing Iraqi Army units that in the end will be subjugated to the Iranian led military machine.  In the end, the best we can hope for is the Hezbollahization of the Iraqi military and at worst a new Iranian Revolutionary Guard in Iraqi uniforms with a subjugated Iraqi Army.  Either will then be directed at the Kurds or what remaining Sunnis would dare to resist Iranian hegemony.