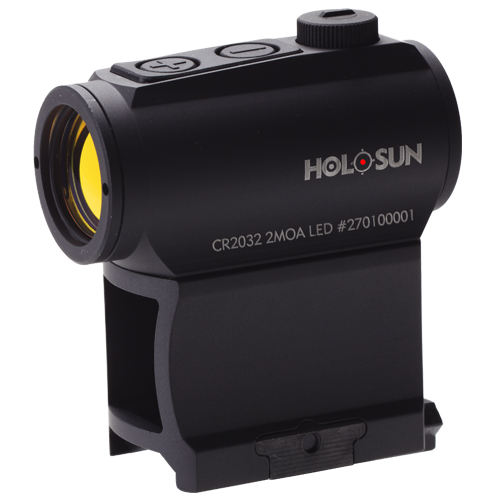 UPDATED 21:02 EST 4 Sep '14
I've been searching for a quality micro red dot for my AR15 and just couldn't justify spending around $600 for the outstanding and battle proven Aimpoint Micro H-1 red dot sight.  I discovered the Holosun PARALOW HS403A Red Dot Sight and after two weeks of kicking the tires I couldn't recommend a better solution.
The Holosun HS403A micro red dot measures 2.8" long and 2.1" wide (essentially the same size as the Aimpoint H-1) and claims a 50,000 hour battery life off of one common CR2032 battery using an LED illuminator.  It features a crisp 2 MOA red dot with 12 brightness settings.  The first three settings are night vision settings and the brightest settings are visible on the brightest sun filled days.  The sight features an automatic eight hour shut off function to conserve battery power and will automatically come on with a slight tap to the weapon.  Brightness adjustment is straightforward with two rubber covered buttons on top.  You can hold both buttons down to turn the sight off.  Adjusting the sight is also straightforward with adjustment knobs on the top and right side.  A nifty little feature is the caps also serve as an adjusting tool so you don't have to pull out a flat tip screwdriver.
The sight comes with two picatinny rail friendly mounts.  One will co-witness with conventional AR15 sights the other is a low profile mount.  A unique feature of this sight is no external battery box.  The CR2032 battery sits in the bottom of the sight and is secured by the mount.  At 50,000 hours of battery life (over five years) there shouldn't be much need to replace batteries.  It lists for $169.99.
I wanted a micro red dot because I long ago became a believer in the simplicity of a red dot over iron sights (you eliminate sight alignment, aligning the front and rear sight, as a task).  Second, I'm a minimalist at heart and smaller sights mean less weight as well as more room should I want to add a magnifier in the future.  Finally, I like the increased situational awareness micro red dots offer.  I can see more of what's in front of me and I find my ability to transition to a new or what may be the most dangerous target is superior to other red dot solutions.
I was running a very good $200 sight with a lifetime warranty before I adopted the Holosun.  My biggest complaints with otherwise a great sight were it was a little bigger than the Aimpoint H-1 and the battery switch kept coming on in the bag draining the battery.  These issues fueled my search where I eventually came across a Primary Arms advertisement for the Holosun.  Primary Arms has a great reputation.  Impressed by the reviews on PA, I did my own research on the Holosun which is a pretty new product only being announced at this year's shot show.
I contacted Dale at Holosun in South Florida in the hope of finding a nearby dealer where I could physically handle the sight.  Dale was pleasant, knowledgeable confident about his company's product and stood behind the Holosun's warranty.  Outside of physical abuse, Holosun will replace a malfunctioning sight.  Dale pointed me to Nexus Shooting to check out the sight and talk with the staff about their experiences with the sight.
Nexus Shooting deserves its own article.  I'm looking forward to spending some time in their extensive facility in November.   Sadly they were sold out of the Holosun micro red dot going through a dozen units in a couple of days. The sales staff was even kind of surprised since they had them in stock that morning.
I spoke with two of their very qualified staff.  Their experiences follow.
"Chris", one of the firearms instructors at Nexus a former 0311 Marine with several NRA shooting certifications shared his experience with the Holosun.   He put 500 rounds through an AK47 with the Holosun in a TAPCO mount.  He experienced no loss of zero and for the price point thought it was an excellent sight especially for someone that doesn't want to pay more for a sight than what one's whole rifle costs.
"Will", another of Nexus' firearms instructor was a former SWAT team member in the Atlanta area also shared his experience with the Holosun after putting four hundred rounds through four different weapons (AK47, AR15, SLP FNH Shotgun & a 9mm CZ).  His experience was the Holosun held zero was well made and was favorably impressed with the housing.  He felt this was a great sight for recreation and competition level shooting.
At this point I was convinced and contacted Holosun to let them know they were sold out at Nexus and wanted to purchase a micro red dot.  They were gracious enough to ship me one.  My Holosun came in very well padded box with two mounts, a battery and the two allen wrenches necessary to mount the sight.  The sight has a very attractive black oxide coating.  The glass is clear with no parallax noted.
The battery installs into the bottom of the sight and the sight is then secured with four screws to the mount.  The sight is waterproof but the battery compartment isn't.  The directions recommend a coating of silicone grease to provide a waterproof solution.  Rain isn't going to impact the battery submerging it in water might.  I didn't test it.
(UPDATE:  I inaccurately attributed the silicon grease suggestion to Holosun.  It was a suggestion I read somewhere else and linked it to the instruction sheet included with the sight.  My mistake.  James from Holosun related to me recently that he submerged the Holosun in water for a couple of hours and then set it in a freezing environment for a couple of hours with no effect. 
For those interested, the battery sits in a rubber membrane and when you torque down those four screws to connect it to the mount it's pretty hard for water to get to that battery.  In any case, the sight is not characterized as waterproof and if you are planning on doing a night insertion through the surf this might not be the sight for you.  Otherwise a serious downpour or accidental dunking aren't going to impact the sight.)
For two weeks I almost constantly left the sight on set to the highest power setting.  The eight hour auto shutoff worked great as well as the wake up function.  Mounting the sight to my AR was a breeze and the sights cowitnessed with my Magpul flip up sights.  Zeroing went quick.  I found the red dot very crisp and used the lowest setting I could on a 50 meter small bore target to get a dime sized zero.  I promptly put five hundreds rounds downrange with some basic reflexive fire shooting drills until I needed gloves to hold on to my front hand guard.  The zero remained solid.
So there you have it.  Short of a $600+ Aimpoint Micro Red Dot the Holosun  HS403A Red Dot is a great choice.