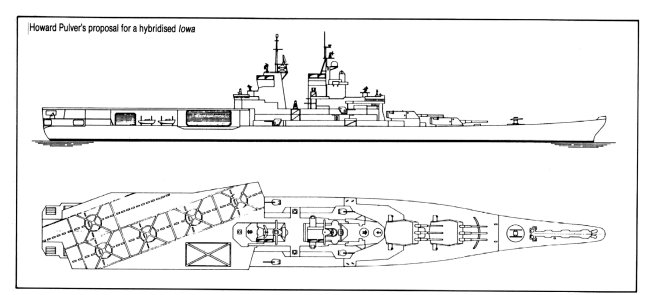 Yes, there was a plan!  The Navy and Marines presented Congress a concept in the 70's to turn Iowa class battleships into heavy assault ships.  The Iowa class battleship was originally designed to accompany WWII carrier task forces.  Four of six planned ships were built and were the longest battleships ever built.  Coming into the force as the carrier ascended into its primacy, the Iowa class battleship was never able to prove itself as the cruiser killer it was designed to be but it shined as a shore bombardment platform from WWII to Desert Storm.
The 1970's plan to turn the Iowa class battleship into the ultimate Marine supporting heavy assault ship featured removing the rear turret and installing a deck and hanger facility capable of operating Harriers up to 30 helicopters, 14 landing craft and up to 1800 Marines.  Its six 16" guns would have provided unprecedented dedicated amount of firepower to its onboard Marines.  Unfortunately, the cost of converting the battleship and the 2000 sailors needed to operate it were enough to kill the program.
There were other conversion plans both before and after the Heavy Assault Ship concept that never came to fruition but this concept would have undoubtedly had the greatest impact on the grunt.  The last of the Iowa class battleships were released from the rolls in 2006 to become museums as the Zumwalt Destroyer has been designated as the heavy indirect fire support provider for future amphibious operations and eventually may field the first rail guns.