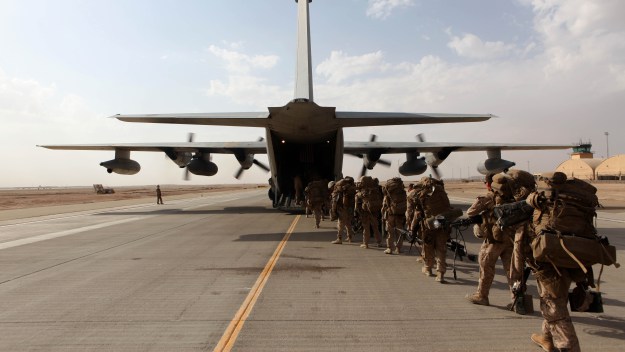 USMC Photo
CNN reports that 100 US Special Ops forces, the last present in Yemen, are being withdrawn because of a deteriorating security situation.  This announcement should raise a list of questions, concerns and demonstrate some important truths.
Why are we withdrawing completely from the administration's only vaunted counter insurgency success?  One's first response might be, "Well, it isn't as successful as the administration depicted."  Not such a stretch, remembering the ISIS as JV or AQ as decimated comments but considering the Iranian backed Houthis recent success at toppling the nominal pro US regime there is another possibility.  Is this a planned abdication of influence by the administration to Iran?  Something in line with the administration's suspected efforts to establish Iran as the Middle East's guarantor of stability?  Few have noticed Iran and Hezbollah's removal from 2015's "Worldwide Threat Assessment of the U.S. Intelligence Community" in the midst of a nuclear weapons negotiation.
The other concern is with the increasing instability in Yemen, punctuated by this week's mosque bombing that killed over a hundred and caused several hundred casualties, what are the implications for Saudi Arabia?  Saudi Arabia could soon see a two front assault on its stability.  One threat is from the ISIS/Iran struggle to the north. (I don't mention the US because the current approach projects no sustainment of US influence in the region after the fight.)  The other emerging threat is the now Iranian backed Houthis vs. ISIS/AQ and the previous governments beaten forces in Aden.  Two front wars are very effective at splitting an enemy's attention and resources, a planned event or coincidence?
Finally, the withdrawal of 100 SOF troops from Yemen because of political instability demonstrates an often unstated SOF weakness.  Due to their light footprint, SOF is often unable to defend itself.  That is unless it embeds itself with a side that can provide that protection and in effect picking a side in an internal struggle.  The other solution may be to deploy conventional troops which can reinforce the idea of a foreign invasion.   None of these are great outcomes but should be kept in mind as one weighs courses of action.
In summary, the withdrawal of our last remaining SOF in Yemen leaves one much to think about if one is thinking about the region at all.