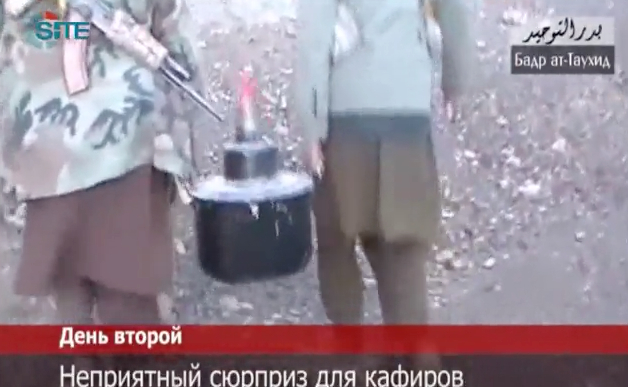 Anti Helo Mine shown in an Islamic Jihad Union (IJU) video (Long War Journal)
The government reversed itself and reported a UH60 Blackhawk helicopter was shot down by the Taliban in Afghanistan Dec. 17 2013.  Six soldiers were killed five from the 1st Infantry Div. and one from the 2nd Cav Regiment.  Initial reports were conflicted about enemy fire in the area but initially claimed enemy fired did not bring the helicopter down.   The Taliban, as they always do, claimed responsibility. 
Helicopters being shot down in Afghanistan aren't necessarily new or unheard of.  Most are attributed to RPG attacks as were the Chinook shoot downs carrying QRF's during Operation Anaconda, Operation Red Wings and most recently Extortion 17 carrying members of SEAL Tm 6.  RPGs are very capable of taking down a helicopter as we learned in Mogadishu Somalia popularly depicted in the movie "Black Hawk Down".  This RPG effectiveness against helicopters isn't a controversy.  RPG's can penetrate the 30T Bradley from almost any direction.  Helicopters fly virtue of some very fine and balanced aerodynamics and are much more delicate than most fixed wing aircraft.
What's new about the recent incident was the AQ affiliated insurgents claimed they used an anti-helicopter mine to shoot down the Blackhawk.  Crude video and pictures exist of two insurgents carrying a heavy looking pot with a crude warhead sticking out the top.  The insurgents claim these are designed specifically to target the lightly armored AH64 Apache gunship.  Most likely these are placed in areas where helicopters will pass over or hover and are command detonated.  Similar weapons and tactics were used against the Russians who learned to avoid insurgents who made appeared in the open like staked down goats.  The Russians had little to fear until MANPADS found their way onto the battlefield.
It was reported the one helicopter downed was one of two flying in tandem and engaged from fire from below.   While a disturbing development simple anti-helicopter mines require very lucky and insightful emplacement by insurgents to be successful.