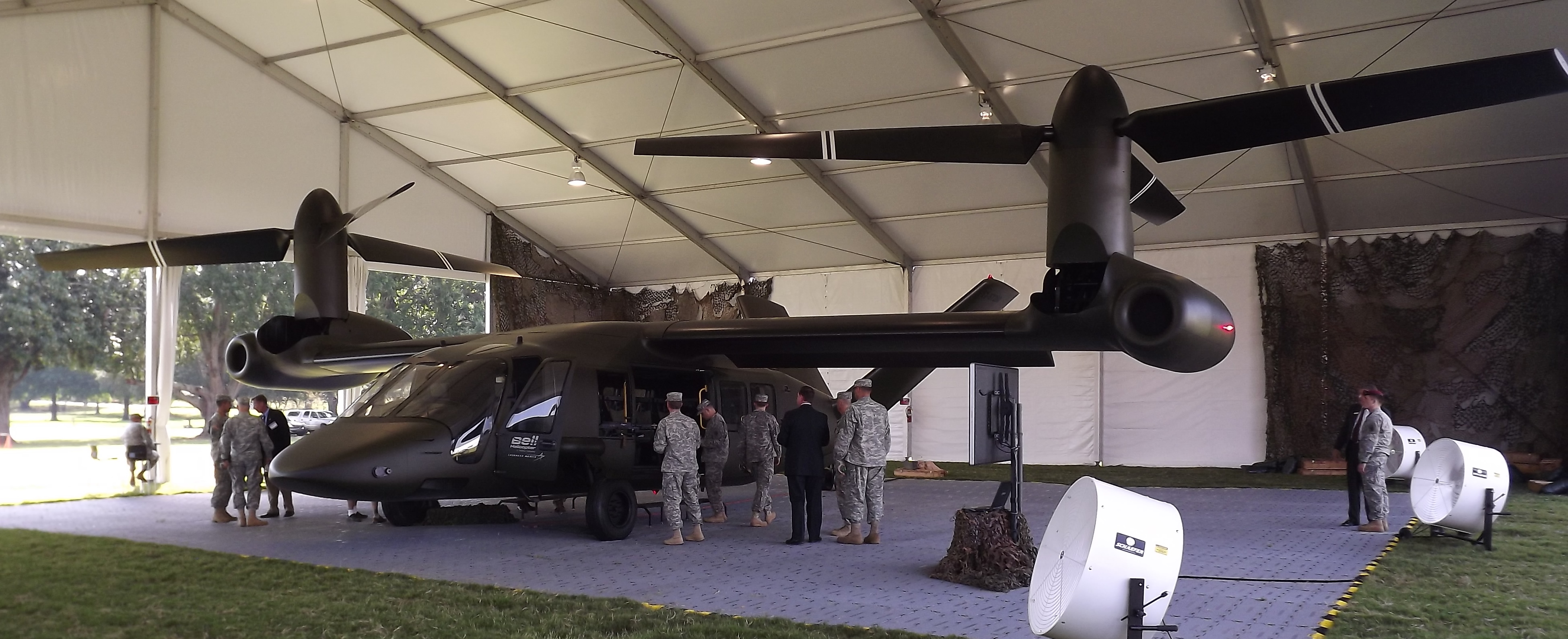 Bell V280 Valor photo by Will Rodriguez
Ever since my time as a rifle platoon leader in the 101st I've had a special place in my heart for the Blackhawk that only expanded to the attack helicopter crowd when I got to see a Cobra take out an Iraqi tank back in the day so at the Maneuver Conference I made a beeline to the aircraft that beat the air into submission.
The Army is looking at its next generation rotary aircraft to conduct the missions the OH-48D Kiowa, UH-60 Blackhawk, CH-47 Chinook and AH-64 Apache do today.  The solutions I saw at the conference fell into two categories, the tiltrotor (rotors that tilt from the vertical to the horizontal) and compound rotors (counter-rotating, coaxial main rotors).
The V-280 Valor (pictured above) looks like what you get after you leave a Blackhawk and an Osprey alone overnight.  There are some key differences though.  The Valor concept avoids the complexity of tilting engines with a system that only tilts the rotor.  It's simpler and potentially safer and cheaper than the V22 Osprey's approach.  The Valor is also much smaller and allows for loading/unloading to the side(s) unlike the Osprey's rear approach. 
Estimated performance under high hot (6k feet, 95 deg) conditions would be 11 troops plus up to four crew at 280 mph.  The Bell aircraft concept is primarily seen as a replacement for the UH-60 Blackhawk but is also being marketed as a potential replacement to the Apache with a 30mm chin turret, 2.75" side mounted rocket pods and internally mounted hellfire type missiles in an opening bomb bay.
Sikorsky's S-97 Raider and Defiant Concepts
Sikorsky had the record setting experimental X2, an old approach that's new again displayed.  Sikorsky's concept is the S97 Raider, a potential scout/light utility helo.  It featured tandem blades which cancel torque and the need for a tail rotor but leaving room for a push prop which can provide up to 70% of the helo's thrust.  Target speed for the Raider is in excess of 250 mph.  Check out the S97 "Raider" video on YouTube for the military application. Two flying prototypes are in production.
Finally, here is the model of the "Defiant".  Sikorsky is using the same technical approach described above but targeted at the utility role the Blackhawk currently fills.
All fascinating concepts being offered in the most trying financial times but take heart, that's the same environment that eventually birthed the Blackhawk and Apache.
Tags:
Aircraft
,
Bell
,
Helicopters
,
Maneuver Conference
,
Sikorsky