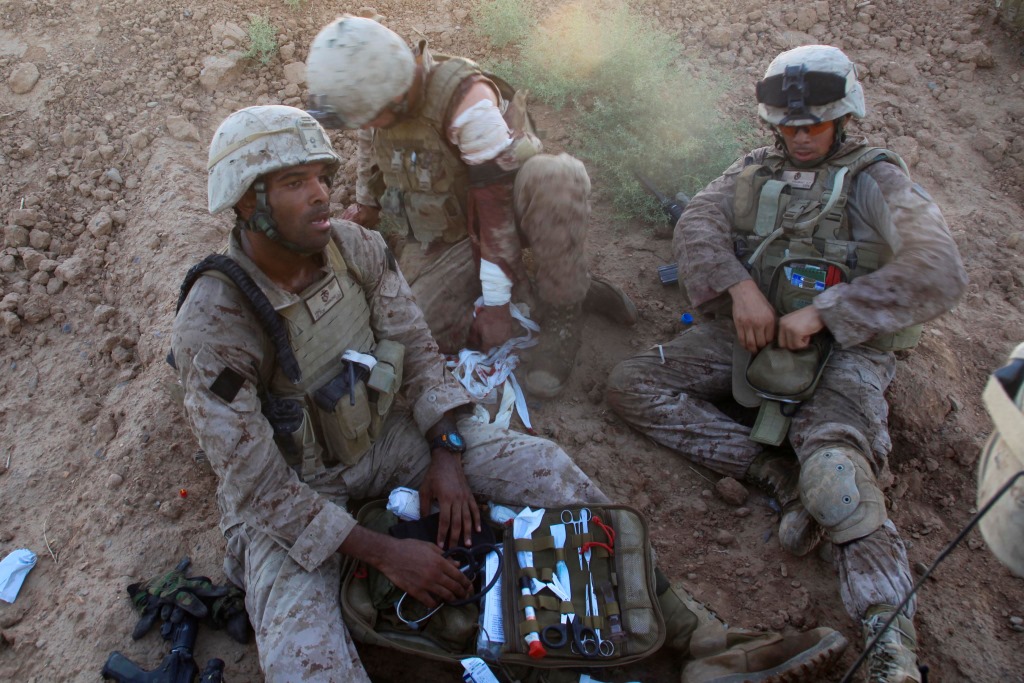 Photo by CPL Artur Shvartsberg USMC
Correction: Below is my response to a fake story about the Marines getting rid of Navy Corpsman.  The story has been debunked.  It's a reminder to me to not respond so quickly to "news" until I confirm from multiple sources.
Secretary of the Navy, Ray Mabus announced the Marines will take over unit level medical responsibilities that Navy Sailors have been fulfilling for over two centuries.  Sailors trained as medical personnel have been fondly and respectfully referred to as Corpsmen.  Future Corpsman will come from the Marines in a new Marine medical specialty.  The change by Marine Commandant General Joseph Dunford is part of an initiative to create a more modern Marine Corps with less logistical and medical reliance on the Navy.
The decision and direction of the Marine Corps is puzzling.  Divorcing itself from relying on the Navy for logistical and medical support will require an increase in size or sacrifice of combat power to achieve and duplication of the Army's approach to defending the nation further breaking with over 200 years of Marine history and mission.  Likewise, the specific decision to field Marine Corpsman may be possible in the short term but will require a duplication of the Navy's medical training capability (or continued reliance upon it) to maintain an organic Marine medical capability.
The Marine decision to field Marine Corpsman seems shortsighted and not well considered.  Assistant Marine Commandant General John Paxton said of the issue, "It may be a change to the tradition of our Corps, but change is not always a bad thing. We're in a modern era of warfare and a transition into garrison. If [we] can train our Marines to provide responsible medical care then we can be ready for war whenever our nation calls upon us. We're Marines, and we can meet the standards of our beloved Corpsmen if not excel those standards." A possible reason for this decision is for the Commandant to make a quick impression on the Corps that there is a new boss in town.  The last statement also implies that maybe the Corps has too much confidence in its abilities.  Most importantly, where is the evidence that Navy Corpsmen hamper the Corps' independence or Marines can provide better medical care?
An even more far reaching result of this a dangerous precedent is providing a path that in the future other branches may use it to encroach on the Corps' core competency.  A lack of study and investigating what is necessary before assuming a new role is a recipe for bad decisions.