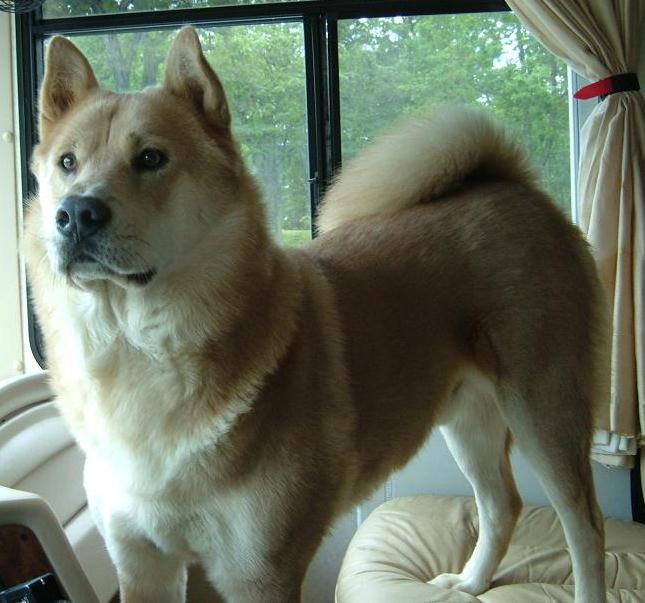 My Buddy passed today.  Bradley was eleven years old Chow-Akita mix I adopted from the post pound as a puppy.  A "Chakita", if you will and it always caused me an internal chuckle when folks "recognized" the breed.  He was a ball of fur that plowed along despite any obstacle either bowling them over or bouncing off of them without a whimper and so I named him after the 30T Bradley Fighting Vehicle that carries our Infantry into the fight.  It was an apt name as Bradley came to embody many of the qualities of that vehicle that protected the Infantry and of the Infantry itself.  He matured into an 80+ lb legend.
Chows and Akita's are a dog persons dog.  Bradley had the black tongue of the Chow among the oldest breeds as is the Akita which Bradley favored.   The Akita is a strong, hardy, independent and dominant breed aloof with strangers, affectionate with family (just like Infantrymen).  They are an intensely loyal dog as the story of Hachi  demonstrates.  Bradley looked a lot like the dog that played Hachi in the film. 
Bradley loved the outdoors but was an inside dog who slept on the floor at my side.  He was an excellent watchdog and I believe the primary reason I was never robbed when running a store in a high crime area of my town.  Bradley was distant to everyone except our pack and his deep bark, wolf like visage and golden eyes were simultaneously beautiful and intimidating.  His deep affection for stuffed animals that squeaked contrasted mightily against his fearsome image and regal stature.  He took it upon himself to always be on watch whether it was trespassing squirrels in the back yard surrounded by his stuffed animals or the knock at the door or suspicious noise at night.  His bark was always a justified call to check something out.  He was a talker, who chirped, mumbled and whined about all things real and imagined (again, like most Infantrymen).
Bradley's greatest desire was to please me and after his strong willed moments would immediately seek me out for forgiveness.   His best times were pulling security when we walked, playing catch, being chased around the house with a toy in his mouth and a good backrub he would get when he'd stand between me and the TV.  Bradley was strong willed and used a growl both as a warning and a greeting.  You just had to know him to know which one he meant (like I said, just like Infantrymen).
Bradley was truly a gift from God.  He always raised my spirits.  His demeanor and appearance exuded pride.  His growl, raised hair on his back and bared teeth made me feel invincible against any threat and I was.  His deep penetrating stare, broad smile and slobbering tongue physically manifested love.  He taught me nothing was more important than loyalty and love infinite.  He was a legend.
Bradley passed quickly this morning after several days of mobility issues.  He has left a gaping chasm in my heart that will be filled with the many fond memories I have of him.  I can only pray to be worthy of the intense devotion and affection he gave me.  I'm sure he will be at the gates when it's my time.  I hope the Lord supplies me a stuffed animal to give him.