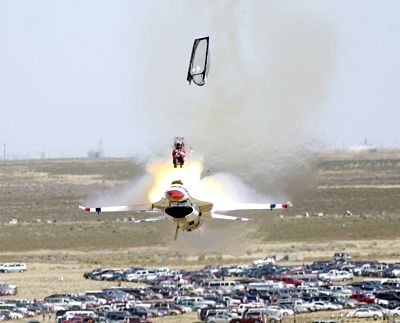 USAF photo by Staff Sgt. Bennie J. Davis III
Late last year I wrote extensively here and on SOFREP.com on the Air Force Academy using cadet informants to expose other cadets involved in drug usage and sexual assault.  In the process, cadets were instructed to violate the cadet honor code and academy regulations with the promise they would be protected.  The Air Force's Office of Special Investigation ran the program allegedly without the knowledge of commanders.  When former informant Cadet Eric Thomas was undergoing his separation board the OSI abandoned him.  Cadet Thomas was separated for excessive demerits and bad behavior.  Cadet Thomas notified his congressman and the Colorado Springs newspaper, The Gazette.
The Gazette wrote a series of stories exposing the scandal and the Air Force's response transitioned from Commander's not being aware and the cadet being a substandard performer to  the Superintendent stating she would review the "disenrollment process" and intended to "eliminate the need for cadet confidential informants in the cadet wing."   An Inspector General investigation was promised. 
The Gazette has done another story.  The report is in and it is a stunning whitewash of what I referred to as a black hole of leadership at the Air Force's premier leadership institution.  The IG report defends the use of cadet informants and blames Eric Thomas for failing "his mission".  That mission being, serve as a cadet at the Air Force Academy preparing to become a commissioned officer.   The report goes on to say Thomas "did a tremendous amount of good in helping solve investigations and then bring those so deserving to justice," BUT incredibly goes on to condemn Thomas for losing sight of his primary responsibility,  graduating.  It boggles the mind and a classic example of doublespeak.   Thomas' attorney, Skip Morgan, former head of the academy's law department said, "It is one of the most masterful jobs of cherry picking facts and distortion I've ever seen".
My previous essays explained how officer development programs especially the honor code are severely damaged by the use of informants who are especially allowed to violate that code.  Brig. Gen. Gregory Lengyel, the Commandant of Cadets, agrees with me.  Though favoring limited cadet informing, like who attended an illegal party, he said "I am not in favor of cadets actively, you know, trying to set up a drug buy. I'm not in favor of anything, even for law enforcement generation, I do not support cadets violating the Honor Code."  He further stated, "I'm skeptical of trying to turn a cadet into Jason Bourne and make him a secret agent".
General Lengyel recommended policing drug use and other violations with other approaches that don't rely on deception.  He specifically identified random drug testing.  I concur, as well as inculcating in cadets an appreciation of what officership means and what is and isn't acceptable.  Frankly, it's stunning that cadets cover for other cadets' drug use, sexual assault and other felonies.  This is what happens when a military organization allows loyalty to each other to trump loyalty to the organization or the mission.  As demonstrated by the widespread cheating on nuclear missile officers tests this kind of behavior can be carried on into the service.  
The Air Force IG report is a textbook example of  the corruption that is infesting our military.  It simultaneously destroys any faith in the Air Force's IG office in correcting abuses by commanders and provides the Air Force Academy a shield to further destroy the moral fiber of the institution.  Cadets are watching and the Air Force will pay dearly for this debacle for decades to come.