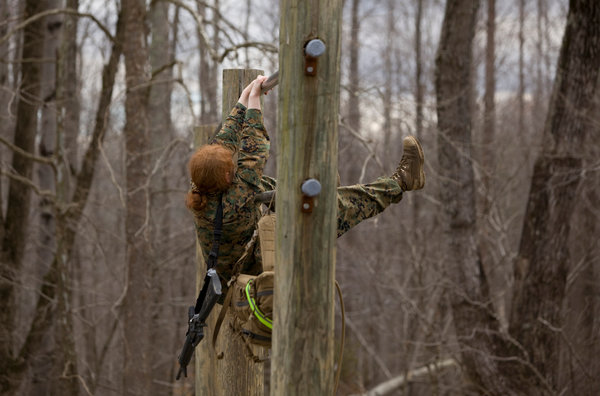 Women Marine on Obstacle Course photo by Chris Greg NYT
As part of the Marines effort to collect data on women serving in the Infantry the first enlisted marine infantry basic course consisting of 15 women started 28 Sep 2013.  The course is approximately 8 weeks long.
19 women Marines volunteered to try the course which is for data only.  They will not be awarded the prized 0311 Marine Infantryman designation should they graduate.  So far their progress is better than the women who have tried the Marine Infantry Officer Course, granted the officer course is more challenging where almost one in four fail compared to the 99% success rate for the enlisted course.  Nine of ten women marine candidates failed the first day of the ten week MIOC course.  The tenth Marine lasted a week before stress fractures caused her to quit the course.
Of the 19 enlisted women Marines who volunteered for the marine infantry basic training course four changed their mind, two failed entry PT and 13 remain.  On a recent six mile forced road march of the 263 Marines two men and two women failed to complete a .8% vs. %13 fail rate respectively.  The road marches increase in difficulty to 12 mi.  Drill instructors noted that marksmanship performance was the same.
There's about a month left…
Tags:
Female
,
Infantry
,
Marines
,
Women